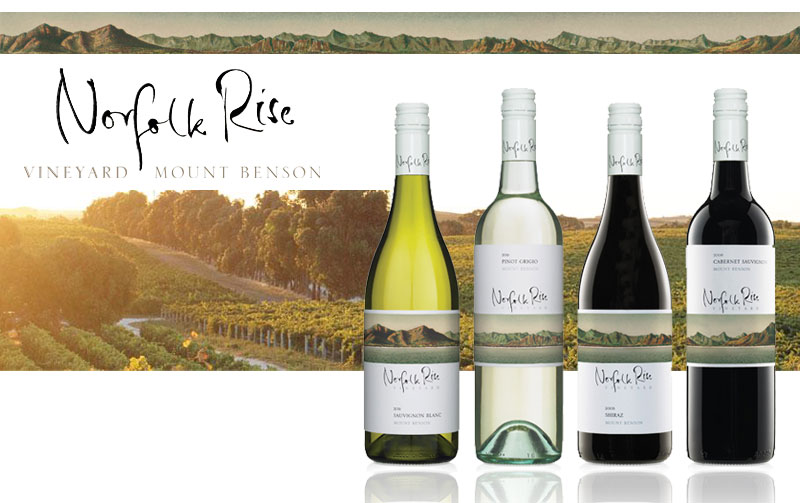 Location
Norfolk Rise Vineyard is located in the emerging wine region of Mount Benson at the southern tip of South Australia. One of Australia's smallest and most recently recognised wine regions, Mount Benson's 500 hectares of vineyards are characterised by a soil profile of terra rossa soils lying over fossilised limestone and a close proximity to the Southern Ocean. This combination of perfect geology with a plentiful supply of pure underground water, and maritime breezes creates wines of great elegance and structure.
The vineyard surrounds the winery and all the fruit is processed on-site at Norfolk Rise's state of the art winemaking facility. The proximity of the vineyard to the winery ensures that fruit is not only picked at the perfect time but the damage to fruit in transportation is limited. Delicate fruit flavours can also be captured and preserved, allowing maximum expression of varietal character. Using the best machinery from around the world the Norfolk Rise winery is able to produce wines that are a true reflection of the fruit from the Norfolk Rise Vineyard.
Vineyard Management
In addition to the help given to the vines by Mother Nature, the dedicated team at Norfolk Rise Vineyard employ a carefully planned "Block to Label" management approach to the vineyard. The vineyard has been planted in a manner that ensures each block of the vineyard is planted with the grape variety that best suits the conditions in that specific area of the vineyard.
With over 46 separate blocks in the one vineyard, a natural variability in soil profile, and a range of clones and rootsocks planted, we produce 46 parcels of fruit, all with their own individuality. This allows us the opportunity to create many different batches of wine off the one vineyard, leaving the winemaker with an array of options to help produce a consistent, high quality product, year after year, while still providing the opportunity to experiment and further improve quality.
Their Products:
Norfolk Rise – Cabernet Sauvignon
Norfolk Rise – Merlot
Norfolk Rise – Shiraz
Norfolk Rise – Pinot Noir
Norfolk Rise – Sauvignon Blanc
Norfolk Rise – Pinot Grigio